Vaniman Manufacturing Co. could not be more pleased to announce our partnership with the Purchasing Association of Central Alabama (PACA). We will be able to provide critically important portable HEPA air filtration equipment for PACA members in response to the pandemic and indoor air quality concerns.
By negotiating reduced pricing, PACA has made it easier to follow CDC building ventilation recommendations that include the use of "Portable Air Cleaners."
Why Vaniman is a good fit
Vaniman is a family-owned, US-based manufacturing business with over 35 years of working in dust collection, micro-abrasive blasting, and air purification for a variety of industries.
Our products are built to last, easy to maintain, and designed to solve problems.
Since the start of the pandemic, we've provided a number of different entities with large orders of our Pure Breeze HEPA Air Purifiers (including school districts). Along the way, we've stressed the importance of following the science of COVID-19 and how to address it safely and reliably.
Improving the indoor air quality in schools, municipal buildings, fire stations, and other state & local government entities is a big step in the right direction. As we've said many times throughout the pandemic, stepping up safety around COVID-19 can bring long-term benefits well beyond this one pandemic.
Why the Pure Breeze HEPA Air Purifier is a great choice for Alabama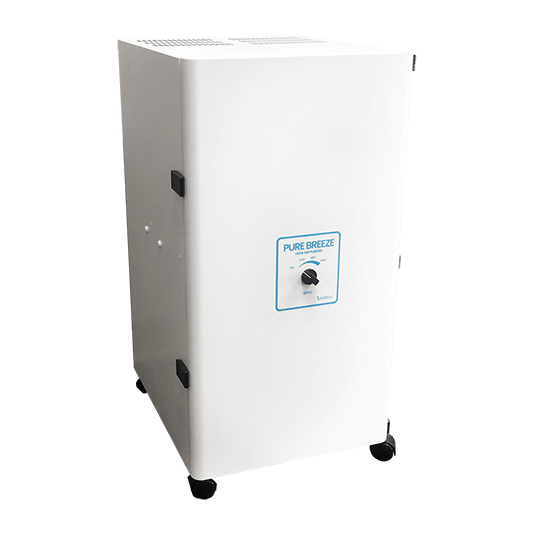 The Pure Breeze offers true HEPA filtration with QUIET sound dampening tech. The HEPA filter is tested and proven to remove over 99.99% of air particles down to 0.3 micron.
We take build quality extremely seriously, and every single Pure Breeze unit is tested for HEPA effectiveness prior to packaging and shipping. Filters are easy to replace (and we do recommend replacing every 12 months), and anyone can purchase those replacement HEPA filters directly from us.
Our units come with a 3-year standard manufacturer warranty — and we are the manufacturer, so you never need to worry about a phone call to the other side of the world.
Did we mention it's QUIET? At 56 dB, even the highest power setting is quieter than the average human conversation.
But we don't sacrifice power; the quietness is from advanced sound-dampening technology inside the steel unit, not from a weak motor. Our hard-working, long-lasting air purifiers produce a CADR of 297 CFM, even through a hearty multiple-stage HEPA filtration system.
VANIMAN PURE BREEZE HEPA AIR PURIFIER QUICK OVERVIEW
| | |
| --- | --- |
| CADR | 297 CFM |
| Sound Level | 56 dB |
| Warranty | 3 years |
| Country of Manufacture | USA |
| Technology Employed | HEPA Filtration |
| Additional Product Data | CLICK HERE |
Watch out for harmful pollutants
The CDC does NOT recommend units with unproven or emerging technology such as ionization, in-unit UV light, or DFS germicidal technology. In many cases, technologies like these create ozone or other toxic pollutants that create more harm than they prevent.
The CDC does, however, strongly recommend portable units with HEPA filtration.
There's nothing outrageous about the Pure Breeze — no WiFi connectivity, no digital displays, no software updates, no unproven technology. Other units offer bells and whistles that can easily break and cannot be easily replaced; this is the opposite of our manufacturing philosophy.
Like anywhere else, Central Alabama schools, municipalities, etc. depend on reliable products, and don't need to waste money on shiny objects that were built overseas.
Unlike anywhere else, PACA members have a special negotiated price right now. Especially for schools, summertime is the perfect time to order air purifiers.
The Pure Breeze has been so successful because it does exactly what it is supposed to do, and no more. There's nothing extraneous, redundant, or potentially harmful; just pure HEPA filtration in a unit built in the USA, guaranteed to last a long time.
PACA members can take advantage
If your organization is under the PACA / Jefferson County Commission umbrella, you will be able to take advantage of the negotiated pricing. Please feel free to contact our product specialist by phone at:
(760) 723-1498
Or, you may schedule a free, no-obligation phone call with a product specialist who can answer all your questions.