"Which air purifier to buy" is not a decision most of us anticipated as kids, but most of us didn't anticipate an airborne pandemic, either.
But here we are. Air purifiers are flying off the proverbial shelves these days, and not just for personal home use. Among those ordering units are:
Schools
Dental labs
Dental offices
Municipal offices
Fire stations
Commercial landlords
…and many more.
If you've been thinking about air purification, no matter what your setting is, you'll need to be able to cut through the noise and make a smart decision.
"What do I need?"
The first thing you should ask yourself is: what am I trying to achieve? Is it:
Safety from airborne disease
Getting rid of odors
Improved worker health
Improved worker morale
General indoor air quality improvements
…or something else entirely?
Knowing specifically what you're after makes narrowing down your options much easier.
"What does this thing do?"
The second thing you should ask yourself is: what technology does this air purifier have? It's important to recognize and understand what different kinds of technology do — and what potential harms they may pose.
Understanding the downsides of newer technologies can help you steer clear of trouble down the road. Many units on today's market employ much more than just HEPA filters, and the information they present is geared toward talking positively about their new tech. Often they may describe the process or the science behind the tech, but naturally, any company wants to put its best foot forward and hide any downsides as much as possible.
For safety, the CDC specifically recommends HEPA filtration, and specifically warns against unproven tech: "As with all emerging technologies, consumers are encouraged to exercise caution and to do their homework. Registration alone, with national or local authorities, does not always imply product efficacy or safety."
On the open market, you'll find gazillions of different air purification devices of all shapes and sizes with all kinds of tech. Things we generally advise avoiding include:
In-unit UV light
Inaccessible filters
Ionization (including bipolar ionization)
PCO or PECO technology
Any features that generate toxic ozone
Marketing materials can often obfuscate performance metrics or function. Some byproducts may be harmless, but as we've recently seen, bad marketing can lead to purchases of units that are not only not effective, but potentially quite harmful to those in the room.
What to focus on instead
According to the CDC, you should consider HEPA filtration units based on clean air delivery rate (CADR), which is a measure of volume of air cleaned over a period of time. Don't buy based on "square footage" alone — that paints an incomplete picture, and is potentially deceitful marketing.
If it helps, we do always recommend reading the fine print. You may spot warnings like "DO NOT Use AWAY MODE in Spaces Occupied by Human Beings or Pets" or "This product cannot be shipped to California" — these can't be good signs.
Why only HEPA?
Again — slick marketing can make new technology seem very appealing. But there's a reason the CDC only recommends HEPA filtration for indoor air purifiers: it's both safe and effective. It's been around since the 1940s, and has been proven in test after test over the decades to do exactly what it's supposed to do, which is to trap tiny particles in the filter instead of allowing them to float freely in the room.
Airborne viruses (such as SARS-CoV-2, which causes COVID-19) travel on biological aerosols, which come from people doing normal people things like talking, singing, or simply breathing. Those aerosols — microscopic particles — can carry the virus from one body to another.
Trapped in a filter, they can't do that.
HEPA filters trap 99.97% or more of any tiny particles as small as 0.3 micron (also called micrometers, or one millionth of a meter). Our biological aerosols tend to be between 3 and 10 micron, certainly large enough to get caught in a HEPA filter.
And while a HEPA filter doesn't actively destroy or "kill" the particles it traps, it keeps us safe from disease because viruses die after a couple days of sitting in the filter, with no human host to infect. (Important note: when changing a HEPA filter for a new one, please always be sure to treat the used one as a biohazard, and exercise caution!)
"What else do I need to know?"
No matter your goal with an air purifier, there are certain things you'll always need to consider. In addition to a HEPA filter, look at:
Clean air delivery rate (CADR) – know how many times per hour you'll swap all the contaminated air in the room for clean air. (Again, square footage alone is an incomplete metric.)
Noise level – you don't want to disrupt a quiet setting!
Energy consumption – watch out for excessive power use.
Movability – a portable in-room air cleaner should be actually portable, meaning you could move it and place it where it's optimal.
Intended use – sometimes a quick look at a product's ads should tell you if it's for an industrial or commercial setting, or for a bathroom, or for whatever may be the intended setting. But regardless, be sure to read the product specs and see what they state is the intended use.
If you have difficulty finding answers in a product's literature or web content, don't be shy about calling the manufacturer or supplier to find out!
More questions you should ask an air purifier supplier:
Which air purifier is most comparable to this one?
What kind of warranty is there?
How do I maintain this unit?
Do you provide replacement filters?
When can I expect delivery?
The Vaniman Pure Breeze HEPA Air Purifier
We here at Vaniman would be happy to answer this or any other question about our Pure Breeze HEPA Air Purifier. This is a portable unit designed for: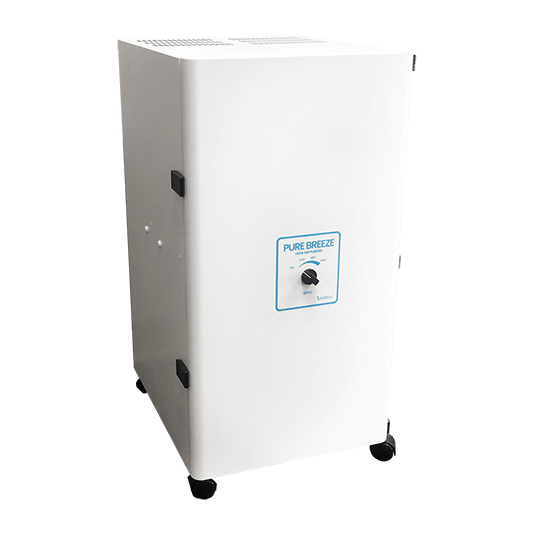 Commercial or government offices
Industrial/factory settings
Compact medical/dental clinics and labs
Educational spaces
The Pure Breeze captures and removes:
Biological aerosols
Microbes
Smoke
Dust
Pollen
Industrial fumes
Common specs for the Pure Breeze include:
CADR: 315 CFM for pollen, 269 CFM for dust, 267 CFM for smoke
297 CFM on high setting in 2-filter configuration (pleated pre-filter plus HEPA filter)
Captures 99.997% of all airborne particles down to 0.3 micron
Noise: 56 dB on high setting at 6 feet (note: typical human conversation is 60 dB)
Weight: 67 pounds; rolling casters standard for easy movement
Case material: powder-coated 18-guage rolled steel
Warranty: 3 years
Maintenance: easy filter replacement, guided instruction for any other part replacement
Made in the USA
You can reach us by phone at 1.800.VANIMAN, or use our contact form to get in touch: