How's your air quality? Are you capturing what you can't see?
HEPA filtration captures aerosols and slows the spread of airborne disease.
Viruses that spread through the air actually travel mostly on aerosols or spatter.
Aerosols and spatter come from all of us, all the time. We do this by simply breathing, let alone talking, shouting, coughing, sneezing or singing.
While spatter falls, aerosols float. Aerosols carrying viruses can remain in the air in a closed room for hours. (See our OSAP panel on how aerosols spread disease and how to mitigate the problem.)
HEPA filtration is fine enough to capture and hold aerosols.
Vaniman's air purification units are excellent ways to prevent aerosols from remaining in the air.
Even if you've got a completely optimized dust collection system, it's still a good idea to clean your indoor air with HEPA filtration.
Indoor air quality plays a major role in health and productivity. In addition to silicosis and other respiratory issues tied to working in a dental lab, there's a heightened awareness nowadays of how diseases can spread simply by breathing.
Source capture is incredibly important – that's where our dust collectors come into play. Our variety of dental dust collectors and work station accessories help capture the dry dust that techs create with various lab tasks. We even make dust collectors that connect to CAD/CAM dental mills to capture the dust created inside those machines.
But what about air contaminants that don't come from a typical dry dust-creating station? There are particulates that you weren't able to capture via a normal dust collector, there are monomer fumes, there are airborne diseases, etc. There's quite a lot in the air in any given space.
This is where our Pure Breeze air purifiers come into play.
The Vaniman Pure Breeze family of products
Vaniman's lineup of HEPA filter air cleaners serves a variety of industries, in a variety of ways. From school classrooms to laser welding sites, our air purifiers can help with:
Improving the health of staff, visitors, etc.
Preventing the spread of transmissible airborne diseases
Removing unpleasant odors
Saving money on cleaning bills
All our Pure Breeze products use true HEPA filtration, meaning they capture 99.97% or better of particulates as small as 0.3 micron. That's good enough to stop bioaerosols that carry viruses, not to mention microscopic dust from silica or other materials.
And like all Vaniman products, they are all are easy to maintain and built to last. The Vaniman Pure Breeze FX Fume Extractor has a standard one year warranty, and the Pure Breeze HEPA Air Purifier and Fume Hood models each come with a three year warranty.
These models all have Vaniman's quality powder-coated 18 gauge rolled steel casing, our extra-mile sound-dampening foam, adjustable speed motors, and long-lasting value. But there are some differences in what each one should be used for — read on to learn more about each.
The Pure Breeze HEPA Air Purifier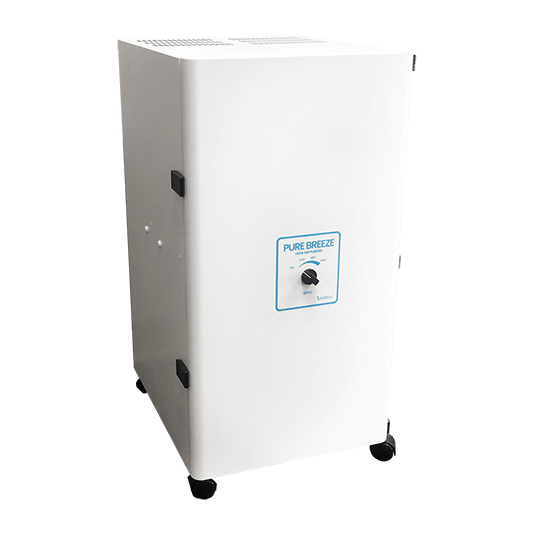 Our best-selling portable HEPA air cleaner scrubs the air and filters microbes, dust, particulates, fumes, odors, and vapors thanks to a 4 stage filtration system. This unit is half the price and size of comparable industrial air purifiers.
This model was also named a Dental Advisor "Clinical Problem Solver" for 2021 after proving its effectiveness in dental offices. We've also outfitted entire school districts with these units because of their ability to efficiently and quietly clean the air.
Its upright stance and durable caster wheels mean it can move easily to where it's needed without taking up a lot of floor space. It's about the same size as an end table.
The Pure Breeze HEPA Fume Hood
The Fume Hood version of the Pure Breeze has the same powerful motor, incredible sound dampening tech, and 4-stage filtration system as its portable counterpart. This arrangement, however, is sideways, and comes with mounting brackets for a wall or ceiling. It's meant to hover above the fumes, aided by the skirt on the bottom.
The Fume Hood variant also has an optional stand and shield for benchtop mounting. This makes the ideal single-station setup possible, helping contain fumes while the purification proceeds.
All 4-stage Pure Breeze variants are excellent at capturing monomer fumes, smoke, odors, dust, microbes, aerosols, and other microscopic particles.
Please note: none of these room air purifiers are a substitute for a ventilation system. They should be considered supplemental. Read more: Room-Level Ventilation in Schools and Universities
The Pure Breeze FX HEPA Fume Extractor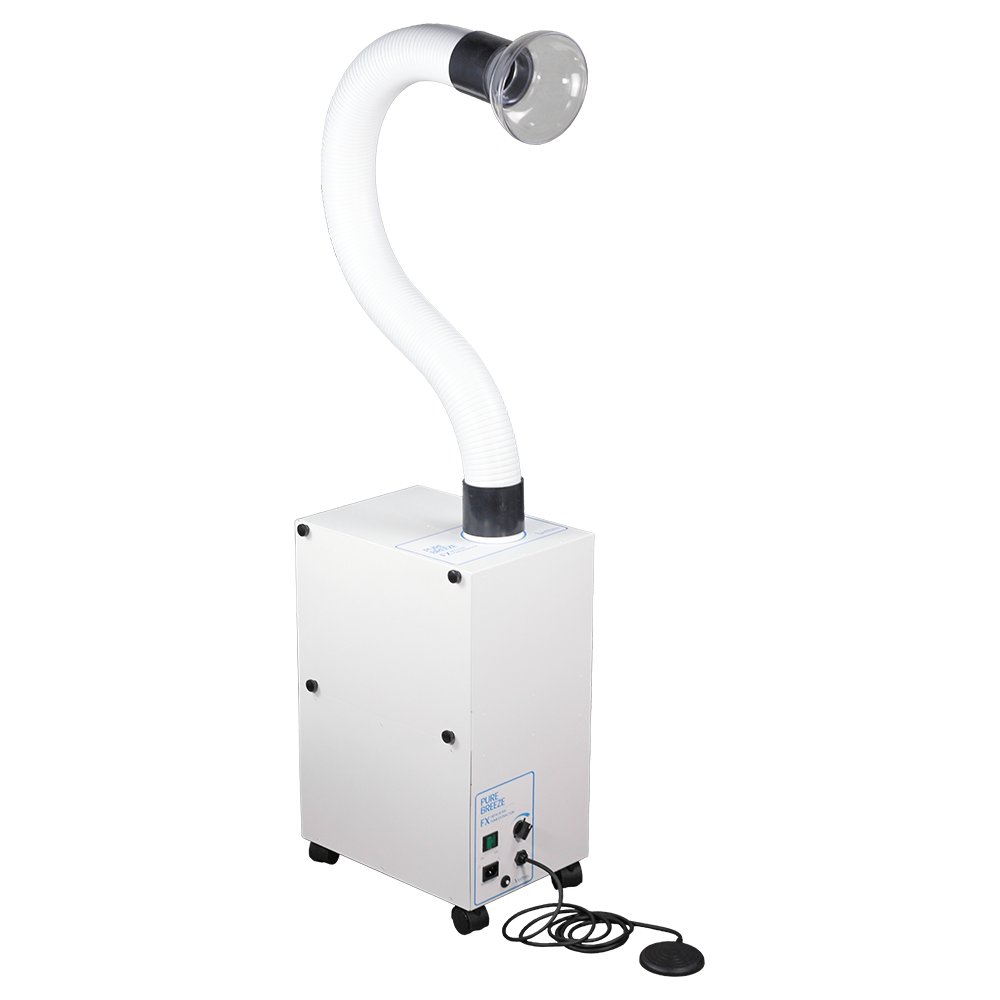 The smallest Pure Breeze, the Pure Breeze FX HEPA Fume Extractor, is more targeted and precise. Rather than cleaning a roomful of air, this fume extraction vacuum is for targeted source capture. The flexible capture hose and caster wheels allow a user to move the unit to precisely where it's needed.
It's designed for soldering, laser cutting, micro welding, and other small projects. The two-stage charcoal and HEPA filtration system is great for smoke, chemical compounds, or other toxic fumes and unpleasant odors.
Make sure air purification is part of your overall dental lab design.
Please note: air purification is not a substitute for, but rather a supplement to, masking to prevent the spread of airborne diseases. Shop KN95 masks for sale on our website here.